Dette er et hobbyprosjekt, leveringstiden kan derfor variere fra forsendelse samme dag til noen uker. Du vil motta epost-bekreftelse når bestilling er registrert, og ny epost med betalingsoppfordring når varen er klar til forsendelse.














EU customers are invited to order via Lectronz, a third party sales platform that handles national VAT.


Blog categories
Archived posts
Can Pow-U and Pow-K show energy produced from solar panels or wind turbines?
Yes, of course!
A Smart Energy Meter measures and counts separately:
"Import" energy and power: When your installation consumes more power than it produces (net import from the grid).
"Export" energy and power: When your installation produces more power than it consumes (net export to the grid).
To get the exported power displayed on the main page, go to Configuration/Meter and set the production capacity [kWp] of your installation. This figure is used to scale the power gauge:

When this setting is done, there will be two power gauges on the main page. One of them will always be zero, depending on whether the installation is currently importing or exporting energy.
The small number displayed is the total energy import/export since your installation was new.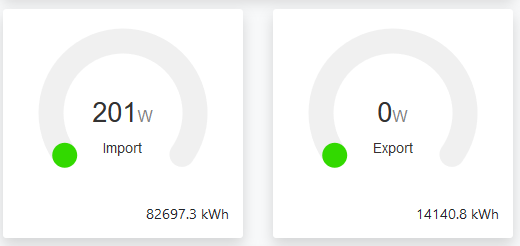 Export power and energy is part of the MQTT payloads. Please consult https://github.com/gskjold/AmsToMqttBridge/wiki/Message-formats